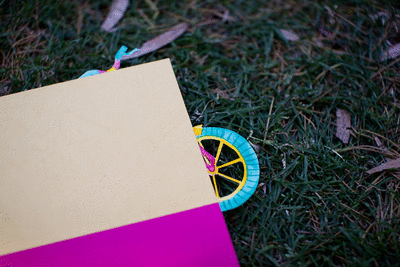 Me & the City - Going out on my bicycle
more pics and info HERE
That's right…watercolors.
Lemon, Orange and Agua : these are the colors I'm in love with right now.  This is a pattern I made a few days ago, I was looking for a simple design to apply to a white-cream cotton bag.
Do you like it? :)
Watercolours studies
Yes, I'm into watercolours patterns!
I'm thinking about making a series of textile patterns and then make bags and other wares out of them, what do you think? Do you like the colours?
Color Studies
I'm working like crazy to produce like..25 notebooks for the 2nd of June (Dosde Market, Madrid).
The notebooks will have bright covers and the same decoration of this one.
Right now I'm making light-blu, orange, yellow, pink and green covers. I'm really excited about the color-mix I'll get!
instaPOST
A recap of my latest "WORK IN PROGRESS" Instagrams ;)
Work in progress.
This is another collection of pictures I took today while I was preparing all the necessary things to start bookbinding for a client. It will be a notebook, A6 size, I'll have to make 3 illustrations about food/cooking + a pop up + a pocket.
It will be based on this one and customized for a person that likes to cook ;) My client chose the papers among the ones from the Tiger store: the cover will have two different patterns on the front and back. Spine will be in pink fabric. I'll make the pop up with that beautiful vintage paper (Grafiche Tassotti).
I've already sewn the pages, now I'm working on the pop up…pretty interesting;)
Enjoy!
Color studies #2
I've been into neon colors lately. So I started playing with them. Here you'll see some pictures I took while cutting and glueing two days ago.
These are basically studies for the covers of a new line of neon-notebooks I've in mind. This time I was playing with the layers, trying to juxtapose them in a certain fashion..I wanted to find a good balance between colors and shapes, but I also wanted to test the paper, to see if it folds in a proper way etc.
The range of possibilities is so extense that sometimes I fall into some extreme experimentalism and start building "things" that nobody could use!!
3 of them are almost ready, but I'm working at different projects at the same time so I don't know when I'll be able to blog them..
Hope you'll enjoy it ;)
Color studies
This is a very simple agenda, A5 size, it has blank pages and hard cover.
As you can see, the right side is different from the left side..I didn't planned it! Since many things in my work happen by chance, this time I realized - to late - I didn't have enough yellow paper, so I had to use the red one ( a very tiny piece..) 
I think I might start a series with neon colors…strong colors like these. I kind of enjoyed to see fuxia, red and yellow together here. 
I've already started 2 notebooks with strong colors, so I thought this could be a good intermezzo;)
Work in progress - Inspirational post
I had to take pictures of these papers to show them to one of my clients, so he could see and decide. It's a journal he's going to write for his baby daughter, A4 size.
He wanted something related to the Mediterranean Sea and a tiny village in Spain, so I choose these colors accordingly. Between the deep blue of the sea and the beige/ocre of the houses and the sand of southern Spain.
For the hardcover I'll use that cream colored paper with the little blue flowers. I thought it could give a sweet touch to the rest of the work.
I love to take pictures of the paper, it's so inspirational!
Hope you get inspired, somehow;)
More sneak peeks here ;)
Work in progress: preparing for bookbinding.
Here there are some pictures I took today. You can see all the notebooks and agendas to be :)) I've been preparing all the signatures for the new books. I had 3 of them already sewed, one with cords the other two the spanish way (without cords)
I love the colors of the papers..next time I'll be taking pictures of the covers.
For daily sneak peeks take a look here ;))